Ten years after the Dumbarton Oaks Medieval Library (DOML) published its first book, we're going stronger than ever! With more than sixty volumes now in the series, we are proud to be bringing Byzantine and medieval literature, history, and written culture to everyone. And now we'd like you to be able to take the Dumbarton Oaks Medieval Library on the go! To celebrate our ten year anniversary, we are holding a prize drawing to give away free canvas tote bags with our logo. To enter, just post a photo of your favorite DOML volume on Twitter, Facebook, or Instagram.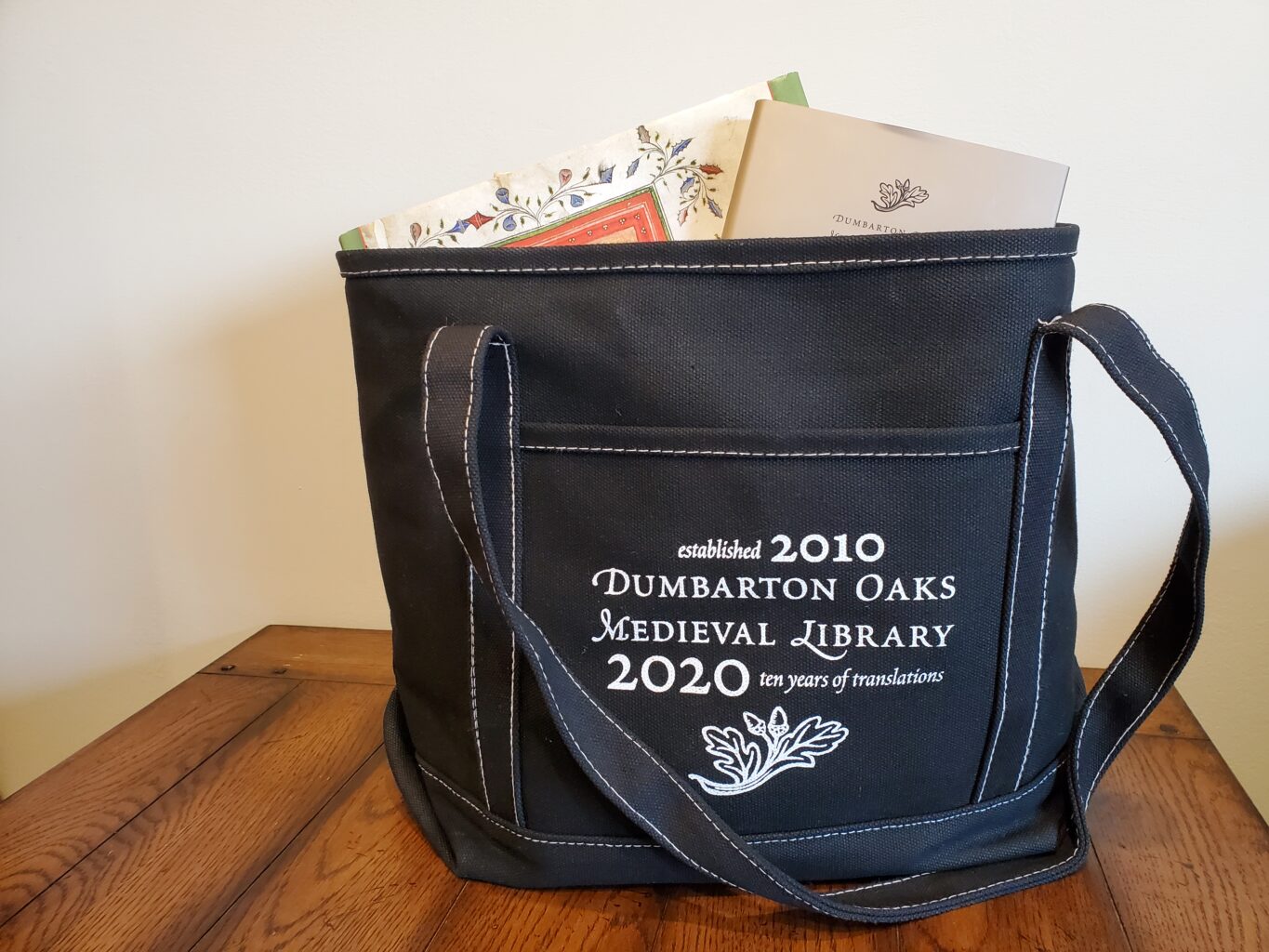 Frequently Asked Questions
How long does the giveaway last?
Entries will be accepted between Thursday, February 11, 2021, and Sunday, February 28, 2021 at 5PM (EST). We will announce the winners via all the Dumbarton Oaks social media accounts on Tuesday, March 2.
How do I enter the giveaway?
To enter the giveaway, participants must post a photograph of their favorite Dumbarton Oaks Medieval Library (DOML) volume to Facebook, Instagram, or Twitter, using the hashtag #myDOML.
Please note, by participating in the Dumbarton Oaks Medieval Library Tote Bag Giveaway ("the Giveaway") you hereby grant to Dumbarton Oaks a non-exclusive, transferrable, royalty-free, worldwide, license to use, modify, delete from, add to, transmit, publicly display, reproduce, and translate any content displayed or published as an entry in the Giveaway.
All posted photos must be original work, taken by the entrants. No third party may own or control any materials the photo contains, and the photo must not infringe upon the trademark, copyright, moral rights, intellectual rights, or rights of privacy of any entity or person.
Each participant can earn a maximum of one entry per social media account, but you can earn extra entries by posting to other platforms. e.g. if you post on Twitter, you can earn one (1) entry, but if you comment on Facebook as well, you can earn two (2) entries. There is a maximum of three (3) entries per person.
How will winners be selected?
On or about Monday, March 1, 2021, we will select potential winners in a random drawing from among all eligible entries received. The odds of being selected depend on the number of entries received. We will attempt to notify the potential winner via private message on or about Monday, March 1, 2021. If the potential winner cannot be contacted within five (5) days after the date of the first attempt to contact him/her, we may select an alternate potential winner in his/her place at random from the remaining non-winning, eligible entries.
What happens if I win the giveaway?
We will ask you to private message or email us your mailing address. We will mail you the tote bag at no cost.
Do I get extra entries for posting on multiple social media platforms?
Yes. You can earn one entry per social media platform (Twitter, Facebook, Instagram), with a maximum of three entries.
Do you ship internationally?
Unfortunately, we can only ship tote bags to addresses in the continental United States and Canada.